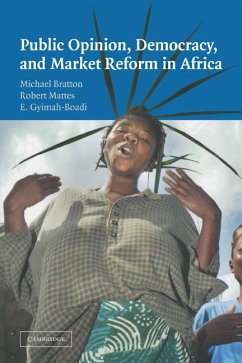 Public opinion, democracy, and market reform in Africa

| | |
| --- | --- |
| isbn: | 9780521841917 |
| publisher: | CAMBRIDGE |
This book is a fascinating exploration of public opinion in sub-Saharan Africa. Based on the Afrobarometer, a comprehensive cross-national survey research project, it reveals what ordinary Africans think about democracy and market reform, subjects on which almost nothing is otherwise known. The authors find that support for democracy in Africa is wide but shallow and that Africans feel trapped between state and market. Beyond multiparty elections, people want clean and accountable government. They will accept economic structural adjustment only if it is accompanied by an effective state, the availability of jobs, and an equitable society. What are the origins of these attitudes? Far from being constrained by social structure and cultural values, Africans learn about reform on the basis of knowledge, reasoning, and experience. Weighing supply and demand for reform, the authors reach cautious conclusions about the varying prospects of African countries for attaining fully-fledged democracy and markets.
| | |
| --- | --- |
| extent: | xvii, 466 p. |
| alternative ISBN/ISSN-s: | uri : http://catalogue.bnf.fr/ark:/12148/cb39931591j |